Resin Update for January 2020
December contract resin prices were flat according to one index and down $.03/lb. according to another, once again the market experts are divided. Despite the weak demand for the past couple of months there are still several price increases on the table.
One major resin producer reiterated their $.04/Lb. increase effective January 1 2020 and amended their $.04/lb. increase for February to $.04/lb. for all grades except LDPE which moves to $.05/lb. While in general material is very available, LDPE has the tightest supply of all grades at this time.
As a reminder for anyone reading whose pricing is tied to an index, IHS will be implementing their non-market adjustment (NMA) effective January 2020. This will be published on January 31st 2020. The amount expected is $.24-.27/lb. depending on the grade. These are always very disruptive when they occur and do not have any effect on pricing but will trigger a baseline reset. Your Poly Pak representative can answer any questions you might have in regards to your specific situation.
We would like to thank all our business partners for putting your trust in us, we are grateful for the opportunity to help you meet your packaging needs and goals. We look forward to setting new ones and working together in 2020.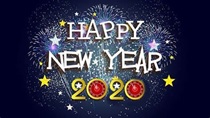 From the entire team at Poly Pak!